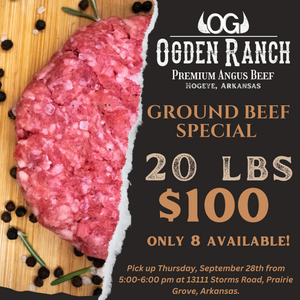 Let ground beef from Ogden Ranch be the star of your meal! Amazing flavor for those grilled burgers, tacos, skillet...
Learn more
The lowdown on our pasture raised angus beef
USDA Inspected
All of the beef in our shop has been inspected by the USDA. Our meat is processed at Key's Family Butcher Shop in Van Buren, Arkansas.
ethically raised~Grass Fed~grain finished
All of our animals are ethically and responsibly cared for right here at Ogden Ranch. They are raised in the pasture and finished on grain. Our beef contains no added hormones. 
Can't beat the taste!
Our target live weight is 1200-1400 lbs. The meat is then dry aged for 14-21 days. Ogden Ranch Angus Beef has an unbelievable marbling and tenderness that is hard to find! Not to mention, a great taste!
If you haven't ordered any beef from Ogden Ranch then you better get your order in now. Best BEEF I have ever had!!! Steaks are so tender you can cut with a fork and the ground meat makes great burgers on the grill! The Ogden's are great people and run a top notch operation!!! You can even find some of his bulls bucking in the PBR!!!
Matt Garrett
We bought beef from Ogden Ranch and just tried it. The ribeyes have the perfect marbling and the taste is amazing!! Great ranch and great product!!!
Stacy Grovey
I ordered a side of beef from them and it's excellent quality and taste. I highly recommend them.
Dorothy Pettey
Where are we?
We are located in the beautiful Boston Mountains of Northwest Arkansas.
Ogden Ranch
South Hwy 265
Hogeye, Arkansas
             &
13111 Storms Road
Prairie Grove, Arkansas

info@ogdenranch.com
Order pick up will be at the Ogden Ranch (Storms Road) by appointment only and on designated Saturdays each month.
Map
273 Street Lane
San Francisco, CA 94102
(415) 557-4400
store@email.com
Monday - Thursday, 12:00 to 23:00
Friday & Saturday, 12:00 to 00:00
Sunday, Closed